Immigration to Romania: advantages and disadvantages
For those wishing to obtain a European passport, Romania is one of the most popular immigration destinations. This country has a rapidly growing economy, creating working places and business opportunities for everyone. From a political perspective, it has proposed "National Strategy for immigration for 2021-2025". It declares that this state is open to foreign residents and must attract skilled workers from all around the world.
Compared to other EU countries, Romania is one of the most accessible for immigration. The current population of foreign workers in this state is more than 120.000 people (according to Wall-street.ro, 2023). Although it welcomes newcomers and offers the benefits of EU citizenship, the advantages and disadvantages of living there should be compared before relocation.
Advantages of immigration to Romania
Advantages that Romania offers its residents make this country a popular immigration destination in EU. The most important ones for potential newcomers are listed below:
High safety index — Romania is among the top 32 most secure countries in the world (according to Global Piece Index);
Low cost of living — estimated monthly cost for 1 person is €539 excluding rent (according to Numbeo statistics);
Expanding job market — most demanded and high-paying working areas are IT, engineering and oil extraction;
Quality health care — it costs about $40 to visit a doctor in a private hospital or clinic. However, the quality of medical services is average;
Low personal income taxes — this indicator is 10% in Romania. The average tax rate in the EU is around 37.8% (according to the tradingeconomics.com data).
Romania joined the European Union in 2007. After immigration to this state, you will also enjoy the benefits of an EU passport, bearing in mind the advantages mentioned above. However, this country is not perfect and there are some disadvantages of living there.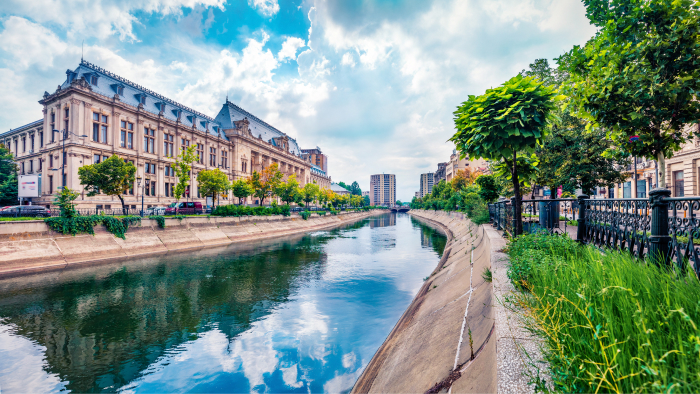 Disadvantages of immigration to Romania
Before immigration to Romania, the downsides of staying there should also be considered. The main disadvantages of living in this state, according to immigrants' reviews, are the following:
Low salaries — according to Trading Economics statistics, salaries in Romania are lower than in many other European countries. In 2023, the average monthly income is 7317 RON (1538 USD);
Language barrier — English is widely spoken in the larger cities. However, in smaller towns or in the countryside, Romanian is commonly used to communicate;
Bureaucracy — the level of digitization is low, which means a lot of paperwork when paying taxes, rent, etc. Corruption and the violation of laws to restrict it are also major concerns.
The disadvantages listed above are mentioned by many people who have successfully become Romanian citizens. However, the benefits of living there are more widely praised and this country is a popular place for immigration.
Necessary documents for immigration to Romania
Relocating to Romania can be done by applying for a visa, obtaining a residence permit, or by using immigration programs, e.g., repatriation. In any case, in order to enter the country and eventually obtain citizenship, such general documents should be collected:
Application form;
Photos in color, 3 x 4 cm, 2 items;
ID card;
International passport.
Depending on the type of immigration, additional documents are required. If you intend to get citizenship of Romania, you should consider applying for a residence permit. In order to acquire it, you will also need:
Evidence of your sufficient grounds to reside in the country;
Proof of accommodation (rent agreement);
Certificates of medical examinations (people with illnesses that threaten public safety cannot apply);
Declaration of your income level;
Confirmation of the residence permit fee payment.
After submitting those documents to the Ministry of Justice, you will be granted an opportunity to work and live in Romania. After residing 5-10 years under a residence permit, you will be able to apply for citizenship and complete the process of immigration.
Conclusion
Immigration to Romania is an opportunity for anyone to improve their living conditions and find their new home in the EU. It has a growing economy and a wide range of industries to work in. This country has its own advantages and disadvantages to consider before relocating there. By comparing them, it becomes clear that Romania is not a perfect place to live. However, it does offer enough advantages to make life there comfortable for everyone.